India is gearing up to reopen after almost 2 months of lockdown, however, there are no signs of gyms reopening anytime soon (and we're suspecting a lot of you don't want to be in a public gym anytime soon). A lot of us are just about done with bodyweight training and on the verge of hitting plateau.
But thank the Gods of Gainz – deliveries for non-essentials have fully resumed! You can finaallyyyyy increase the intensity of your home workouts by adding load, creating instability or increasing resistance by ordering a few toys.
The internet is a bottomless shopping cart and to make sure you invest in the right equipment for your home workouts (and not get stuck with a gimmick), we've picked the most versatile and space saving training props for you.
Here are our home workout equipment recommendations – straight from the People of The Space! Most of these are a click away on Amazon and Decathlon. So check out our team's favourites and pick the gear that suits you best.
Brishti Biswas
Physical Therapist & Pilates Coach
Magic Circle
It's every Pilates instructor's magic weapon. This simple circle can be used to recreate most of the reformer exercises on the mat. Small but effective, the Pilates ring can assist or challenge a movement – squeeze, release, repeat and voila, your ab workout just got a whole lot more effective! It's also a great way to get feedback on your form and technique – hello, body awareness!!
Resistance Bands
A cost effective, highly portable strength training tool that requires next to no storage space. As the name says, it creates resistance ensuring you recruit every muscle fibre in any movement.
Light Dumbells
They may look cute but can give you a fiery burn if used correctly. Lighter dumbells (between 0.5 – 1.5kgs) challenge your muscles in ways that using heavier weights alone can't. You can hit muscles that are usually ignored and increase strength, power, endurance and mobility.
Kunal Rajput
The Movement; Functional Training & HIIT
Dumbells
An essential piece of equipment that will give you an opportunity to do almost any exercise that you do with a barbell and a lot of exercises you can't do with a kettlebell. Balanced, versatile, functional & durable – the movements you can do with dumbbells are endless. Getting a range of weights can get expensive so we recommend getting adjustable dumbbells instead of fixed weights.
Kettlebells
These babies are super versatile and effective – just what you need for a home training kit. This humble equipment will get you doing a lot of dynamic & hinged movements within a limited amount of space. Swing, pull, push – controlling it's uneven weight distribution will have you hitting multiple muscle groups and a variety of planes. In fact, you can build a prettin bangin' home program just around kettlebells! If you've never used kettlebells before 6 – 8kgs would be the right weight to order.
Skipping Rope
Get an amazing cardio session with least possible investment! Skipping will give you full body workout by making you use your core for stability, lower body for the jumps, arms to turn the rope and your brain for focus & coordination – all at once! Plus, once you get into the groove of it, it's a blast!
Gigi
Founder, The Space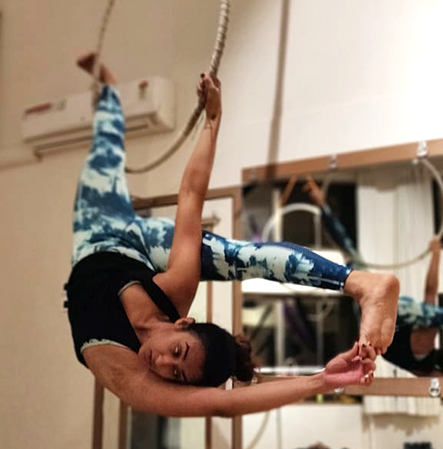 Foam Roller
Yes, it's popular as a self massage tool for trigger points and sore muscles. But, a foam roller can do so much more! You can't be exercising daily and not have one of these! Get ready for your workout by using it as a warm up staple to improve circulation and your range of motion. It can be used as a prop for yoga, pilates and a variety of balance drills and exercises. A smaller foam roller – 18 – 24 inches, should help you cover almost all muscle groups.
Kettlebells
A second vote for one of the most compact ways to build muscle & burn fat. It's is effective as it is addictive!
Doorway Pull Up Bar
This bar doesn't involve any drilling and can be easily removed without any damage to your home. Pull ups are a must-do for building functional strength of the torso and maintaining explosiveness. You can see amazing changes in your physique by just doing pull ups everyday. If pull ups aren't your thing a couple of deadhangs daily should help with grip strength as well as spinal decompression.
Monika & Amrita Yennemadi & Monika Pawlowska-Gandhi
Yoga Instructors
Blocks
A must for those of you who struggle with poses like the forward fold! Make asanas more accessible with these to create space where the body may be lacking it. Prop a couple to elevate a body part that needs a release from stiffness. If you're going for the yoga block, we recommend you buy a pair
Yoga Belt
It's compact, gives control and assists to open up your body in a pose. Use it to increase flexibility to safely complete a difficult posture.
Yoga Wheel
If you have a stiff spine or struggling with your backbends, this is an absolute blessing to have! Specifically designed to open the chest, provide support, align the spine and relax the back muscles – it can be used as a prop to lengthen a stretch, add challenge to a pose and even massage all the kinks out of your back & neck.
Bolsters
A studio favourite, this most loved yoga prop is probably something you already have at home. Bolsters lovingly provide support when placed under different body parts and encourage total release and relaxation. Feel your body melt, reducing fatigue built up from heavy training.
Apoorv Mathur
Coach, Cross Fitness
Dumbells & Skipping Rope
Thanks to Apoorv's recommendation, both these are in the lead for home workout equipments with 2 votes.
Looped Resistance Bands
One wouldn't normally connect strength training to a large rubber band but this compact, portable and affordable alternative for strength training can mimic almost any dumbbell and some barbell exercises. Increase or decrease the resistance by changing its length to activate and challenge your muscles in different ways. Use them for rehab and work on joint stability. We recommend picking up a light to medium strength larger looped band and a set of small looped bands.
Sonal Mehta
Coach, Aerobics & Functional Training
Resistance Tubes
Resistance bands are clearly another favourite with our team. Tubes are another variant of resistance bands and are a good home substitute for machines based pressing and pulling movements. Most tubes sets come with attachments for the door and ankle and allow you to change tube strengths.
Dumbells
At 4 total votes for dumbells, do we need to give you more reasons to place an order?
Swiss Ball
A gym ball acts more or less like a bench but with the added benefit of instability. Because your body spends time actively balancing, it automatically neutralises your spine for a more correct posture. At the same time you can explore a range of applications at different difficulties. Plus you can always deflate it when you need a little more room.